Tarragon is a licorice-flavored herb that is often used to flavor meats or egg dishes. It is used both fresh and dried. Tarragon is a hardy herb usually grown for its leaves and its aromatic flavor. Tarragon plants can reach up to 3 feet tall.
This wonderful herb has long, light green leaves and yellow or white flowers. The lanced-shaped leaves of tarragon have a strong aniseed flavor that is perfect in chicken salads.
With all its culinary benefits, I think it makes sense to have your own tarragon planted in the garden or in a container or pot. Planting it from seeds may take a long time before harvesting.
So the question is "Can you root tarragon in water?" The answer is yes. It is possible to grow tarragon from cuttings. One important tip to remember when growing tarragon from cuttings is to cut the stem after fresh growth appears. With this simple tip, you can even grow tarragon you bought from the supermarket. When growing tarragon, note that like stevia, tarragon loves warm, sunshiny spots.
How to Root Tarragon in Water
Cut the tarragon plant and put it in a wide-rim glass jar. It is best to cut off healthy young shoots with scissors or break them off with your hand.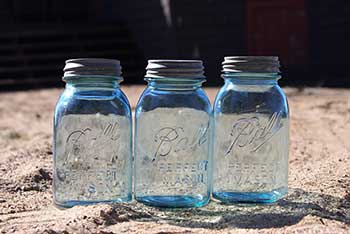 Choose rain or tap water that has been left overnight. Rainwater is perfect for most house plants, especially if the tap water is hard. Leaving tap water overnight tends to lower its chemical content, especially chlorine.
Prepare the cuttings by nipping off the lower leaves. You just need a few at the top of the cutting. Trim just below the bottom leaf joint. Leaves submerged in water will just rot. 
Put a handful of tarragon cuttings into the glass jar so that the stems are covered with water. To encourage the roots to grow from the cuttings, place it on a warm, light window ledge or where there is a bright light. You can easily grow the tarragon cuttings indoors just by placing them on a windowsill. 
Don't forget to change the water at least once a week. 
After a while, you will see tiny roots starting to appear from the leaf joints along the submerged stems. Allow these to grow a little more. 
When roots start to come out, don't change the water. 
When a good root system has developed, pot the tarragon cuttings up. You have now successfully rooted your tarragon cuttings in water!
Transferring Tarragon Cuttings From Water to Soil
You may let the tarragon cuttings to grow in water or plant it in soil. If you decide to let it grow on water, you may have to add liquid additives to supplement the nutrients of the plant. Also, you have to make sure to maintain the level of water inside the jar.
If you decide to transfer it to soil then you can do the following steps:
Break up any large clumps of soil to improve drainage. You may need to add garden compost if the soil is a heavy clay type. Other soil amendments you can use are coco peat, sawdust, wood shavings, or dried animal manure.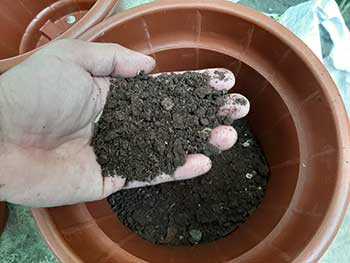 Fill in the pots with loam-based potting compost or topsoil. This will give the young herbs a chance to root freely. 
Firm lightly and level off with your hands.
Water frequently for the first 2 weeks. Make sure to keep the soil moist for this time period. 
To keep your herbs healthy, pick the leaves and soft stems of the edible kinds frequently. 
If you leave tarragon to flower, it attracts pollinating insects, but this makes the foliage less tasty.
Planting Tarragon From Seeds
Tarragon is best grown from cuttings or divisions, but it can be started from seed as well. Begin tarragon seeds indoors in April and sow four to six seeds per pot in moist, composted potting soil.
Once seedlings sprout to a few inches, thin them to one seedling per pot. Russian tarragon can be grown from seed, but French tarragon is only grown from division, stem cuttings, or layering.
Transplant tarragon seedlings outdoors once the last frost has passed. Tarragon grows best in full sun in soil with a pH of 6.5 to 7.5. Upon transplanting them outside, space tarragon plants 18 to 24 inches apart if planting in the garden. Or, you can just pot them.
Because of its great root system, tarragon can thrive in poorer soils. Once the plants have become established, they do not require frequent watering unless there is a drought. Prune the plant frequently to keep it at a preferred height of 2 feet and to prevent flowering.
Spread mulch around the plants in the fall to help them over winter. If you are worried about the winter climate, you can bring your tarragon indoors over the winter to continue its growth.
Divide the tarragon plants every three to five years to ensure their best growth. When weeding tarragon, take caution as its root system is shallow and aggressive weeding can damage the plant's roots.
Since most insects and pests dislike tarragon's aroma, it makes for a good companion plant, especially for eggplant. In addition to warding off pests, tarragon is known for causing better growth in the companion plants grown near the herb.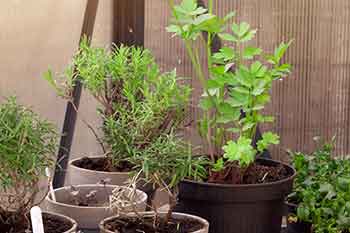 Tarragon can tolerate drought, so it needs no intense watering, especially when planted in a well-drained potting mix. It can also grow under a shade, but it prefers full sun.
Tarragon Contains 346% Manganese per 100 Grams
Tarragon helps not just by improving the flavor of your dishes, but it also provides much-needed vitamins and minerals. According to the U.S. DEPARTMENT OF AGRICULTURE (USDA), tarragon contains 346% manganese, 403% iron, and 140% vitamin A, per 100 grams. This is based on the percentage of Recommended Dietary Allowance (RDA).
Manganese
Manganese is a vital component of several enzymes that are involved in energy production and many other functions. It is also used to activate enzymes that are integral to the metabolism of glucose and fatty acids. Manganese is needed in making the bones strong and keeping the skin and the immune system healthy.
Iron
This is an important mineral because about 70 percent of it is found in the red blood cells as hemoglobin and a certain percentage in the form of myoglobin found in the muscles. Hemoglobin is very essential in the transport of oxygen from the lungs to all the cells of the body.
Iron is also important in the transmission of nerve impulses for proper coordination of the parts of the body. Because of its role in the growth, production, and maturation of lymphocytes, iron can help the body fight infections.
Vitamin A
Vitamin A is essential for healthy vision, eyes, skin, and growth. It can also be obtained from beta-carotene, the pigment found in highly colored fruit and vegetables. In addition to acting as a source of vitamin A, beta-carotene has an important role to play as an antioxidant in its own right.
It also acts as an antioxidant, thus helping to protect the cells against cancer.
Tips and Precautions Before Consuming Tarragon
Tarragon is considered safe in normal food amounts and safe for most people when taken medicinally by mouth for a short period of time.
In large amounts, tarragon might slow down blood clotting.
Tarragon essential oil might cause skin irritation in sensitive individuals.
Making a Tarragon Tea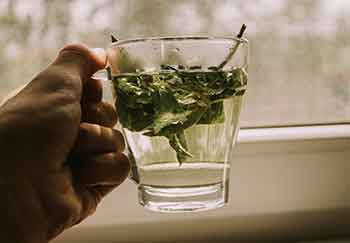 When you pour boiling or very hot water on fresh or dried parts of a plant and let it soak or steep for a minute or two, you're generally preparing an herbal tea. When you do this, you get to enjoy the flavor and aroma of the herb and spice in the water you'll be drinking.
But to get the most benefit out of the plant, you may need to let it steep longer. When you do this, you're now making an infusion. Infusion is actually caffeine-free. In some places, this is called a tisane.
To make a caffeine-free tarragon tea or infusion:
Boil 1 cup of water then add 1 tablespoon of fresh tarragon leaves. Let it steep for 5-10 minutes. Add honey, if desired.
Health Benefits of Tarragon
The most notable health benefit of the tisane or infusion is its calming and soothing effect. No wonder Roman soldiers placed tarragon sprigs in their shoes before marching off to war, believing they would fend off fatigue.
Other benefits of tarragon are:
Boost the immune system (Vitamin C)
Aid in destroying germs and bacteria (potassium)
Eradicate roundworms and tapeworms from the intestines (vermifuge)
Fight bad breath (essential oil)
Help prevent rheumatic arthritis (anti-rheumatic substances)
Reduce the growth of microbes on the skin (antibacterial properties)
Stimulate appetite and digest food properly (oily carotenoids)
Help heal wounds and cuts to prevent septic infections
Keep wrinkles, fine lines, patchy skin, and dark spots from appearing (detoxifying agents)
For those suffering from insomnia, just drink tarragon tisane before going to bed. This is also known to relieve stress.  For poor digestion, drink a cup of tisane, added with grated ginger or mint leaves. Sweeten with either stevia leaves or honey.
Tarragon Recipes
Growing tarragon is easy. In no time, you will have plenty of tarragon leaves for your kitchen. Here are some tarragon recipes that I found.
No-Sauce Pizza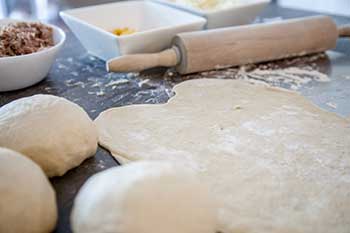 1 16-inch pizza dough
2 tablespoons extra virgin olive oil
1 cup baby spinach, chopped
½ cup kale, chopped
10 large fresh basil leaves, cut into ½ - inch strips
½ tablespoon fresh tarragon, minced
3 tomatoes, sliced ¼-inch thick
½ cup red onion, chopped
1 broccoli, coarsely chopped
1 cup feta cheese, crumbled
Preheat oven to 450 degrees F. Coat baking sheet with nonstick cooking spray. Set aside. Roll out dough on a lightly floured surface, transfer it to a baking sheet, and brush with oil. Arrange ingredients on the pizza crust, then top with onion, broccoli, and feta cheese. Bake until crust is crispy and golden, about 15 minutes.
Carroty Tarragon
Carrots, sliced
Coconut oil
1 tablespoon butter
Fresh tarragon leaves
Salt to taste
Stir-fry carrots over medium heat until desired crispiness is achieved. Add butter and lots of tarragon. Season with salt.
Chicken Jamboree
This healthy chicken and vegetable casserole makes an easy mid-week meal. To make it even quicker, you could use supermarket washed-and-cut carrots and broccoli, ready to go from packet to pan. Mixed wild and long-grain rice goes well with the casserole and adds sustaining and nourishing carbohydrates.
Serves 4
2 tbsp extra virgin olive oil
350 g (12 ½ oz) skinless boneless chicken breasts (fillets), cut into small cubes
1 small onion, chopped
225 g (8 oz) button mushrooms
1 bay leaf
2 large sprigs of fresh thyme or ½ tsp dried thyme
3 large sprigs of fresh tarragon or ½ tsp dried tarragon
Grated zest of 1 small lemon or ½ large lemon
150 ml (5 fl oz) dry sherry
300 ml (10 fl oz) boiling water
225 g (8 oz) baby carrots
225 g (8 oz) broccoli florets
1 tbsp cornflour
3 tbsp chopped parsley
salt and pepper
Preparation time: 10 minutes
Cooking time: about 20 minutes
Heat the oil in a large sauté pan with a lid or fairly deep frying pan. Add the chicken and brown the pieces over high heat for 3 minutes, stirring constantly. Reduce the heat to moderate. Stir in the onion, mushrooms, bay leaf, thyme, tarragon, and lemon zest. Cook for 4 minutes or until the onion and mushrooms are beginning to soften. 
Pour in the sherry and water. Add the carrots and seasoning to taste, and stir to mix all the ingredients. Bring to a boil, then reduce the heat and cover the pan. Simmer for 5 minutes. 
Stir the broccoli florets. Increase the heat to bring the liquid back to a steady simmer. Cover the pan and cook for 5 minutes or until the pieces of chicken are tender and the vegetables are just cooked. Remove and discard the bay leaf, and the sprigs of thyme and tarragon. 
Blend the cornflour to a smooth paste with 2 tbsp cold water. Stir the cornflour paste into the casserole and simmer for 2 minutes, stirring constantly, until thickened and smooth. Check the seasoning, then stir in the parsley and serve.
References
Hendy, Jenny. 2011. Kid's First Gardening Book. Lorenz Books, Anness Publishing Ltd
Reader's Digest. Eat Yourself Healthy. Reader's Digest Association Limited
Villaflor-Almocera, Evelyn. 2017. Healthy Foods Healthy Lives. Philippines: Philippine Publishing House
Gealone-Corpus, Arlene May. 2018. Healthy Herbs and Spices.  Philippines: Philippine Publishing House