Sage is a perennial, evergreen sub-shrub, with grayish-green color and lance-shaped leaves. Its taste is somewhat warm and pungent. It has a high antioxidant capacity to protect the body's cells from damage that may lead to cell death, a weak immune system, and chronic diseases.
It has also anti-inflammatory, anti-fungal, and anti-microbial effects that are beneficial to human health. Over the years, it has been regarded as one of the useful medicines to cure mental disorders and gastrointestinal ailments.
With all its benefits, it is a good idea to always have a fresh supply of sage in your house. Here are some ideas in growing sage:
Sage herb can be grown from cuttings
Sage grow well in containers
Sage is fairly easy to grow from seeds
Sage is rich in vitamin K, iron, and calcium
Sage can be made into a tea or infusion
Sage herb is known for its medicinal properties
Sage is a popular flavoring for mild meat of chicken and turkey and most will also complement stronger-flavored birds
How to Grow Sage from Cuttings
Cut the sage plant and put it in a wide-rim glass jar. It is best to cut off healthy young shoots with scissors or break off with your hand
Choose rain or tap water that has been left overnight. Rainwater is perfect for most house plants, especially if the tap water is hard. Leaving tap water overnight tends to lower its chemical content, especially chlorine.
Prepare the cuttings by nipping off the lower leaves. You just need a few at the top of the cutting. Trim just below the bottom leaf joint. Leaves submerged in water will just rot.
Put a handful of cuttings into the glass jar so that the stems are covered with water. To encourage the roots to grow from the cuttings, place it on a warm, light window ledge or where there is a bright light. You can easily grow the cuttings indoor just by placing them on a windowsill.
Don't forget to change the water at least once a week.
After a while, you will see tiny roots starting to appear from the leaf joints along the submerged stems. Allow these to grow a little more.
When roots start to come out, don't change the water.
When a good root system has developed, pot the cuttings up. You have now successfully rooted your cuttings in water!
How to Grow Sage From Seeds
To grow sage from seeds, it is good to prepare high-quality soil. Make sure that it is not too compact. Put soil inside the germination container or a seedling tray. Sprinkle seeds on top of the soil. Do not bury the seeds, just let them lay on top.
Gently press the seeds onto the soil using your finger. Cover the top of the container with plastic. This will give the seeds a greenhouse effect and proper humidity. Place the covered container in an area with abundant light. Remove the cover once the seeds have sprouted.
Growing Sage in Pots
Sage is an excellent container or herb garden plant. It is best grown in full-sun, well-drained potting mix.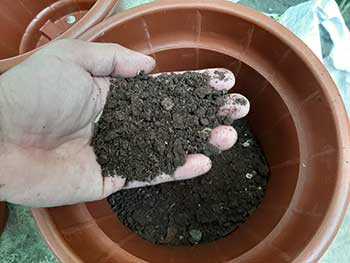 Sage is fairly easy to grow in a tropical climate and does not tolerate sitting in wet soil. Make sure to have good drainage. Sage is popular for its grayish leaves and purple or pink flowers.
It is a fairly drought-tolerant herb, and even when the leaves look wilted, a little water perks the entire plant right up. Wait until the soil is dry to give it a thorough watering.
Sage is an Excellent Source of Vitamin K, Iron, and Calcium
For every 1 tablespoon of sage (2 grams), it contains 33.04 mg of calcium and 0.56 mg of iron. This is based from www.nutritionvalue.org
It also contains 43% DV of vitamin K. Percent Daily Values (%DV) are for adults or children aged 4 or older and are based on a 2,000 calorie reference diet. Basically, it means that sage provides 43% of the vitamin K you need per day.
Vitamin K
Vitamin K is commonly known as the clotting vitamin bit it does more. Recent studies have shown that it helps maintain strong bones b facilitating calcium absorption. Bones end up denser and osteoporosis is prevented or delayed among the elderly.
It is also important in keeping the arterial walls flexible to allow blood to pass freely. Vitamin K does this by carrying away calcium that would have attached to the arterial wall lining.
With insufficient vitamin K, the walls of arteries may be damaged and calcified. As an added benefit, vitamin K helps wounds heal faster. The nutrient also helps regulate blood sugar levels.
Iron
This is an important mineral because about 70 percent of it is found in the red blood cells as hemoglobin and a certain percentage in the form of myoglobin found in the muscles. Hemoglobin is very essential in the transport of oxygen from the lungs to all the cells of the body.
Because of its role in the growth, production, and maturation of lymphocytes, iron can help the body fight infections.
Calcium
Calcium is essential for the development of strong bones and teeth. It also plays an important role in blood clotting. It also lowers cholesterol and blood pressure levels and helps prevent cardiovascular diseases. It is also needed for muscular growth and contraction for the prevention of muscle cramps.
Health Benefits of Sage
This herb is used traditionally to reduce excessive sweating and has been approved by the German health authorities for the treatment of hyperhidrosis. Hyperhidrosis is a medical condition that is described as abnormally excessive sweating that's not necessarily related to heat or exercise. You may sweat so much that it soaks through your clothes or drips off your hands.
Here are some more ways sage keeps us healthy:
Aids in treating mouth and throat inflammation, dental abscesses (phenolic acids, tannin, antiseptic properties)
Improves memory and information processing
Prevents gastric spasms; lower incidence of diarrhea and gastritis (rosmarinic acid)
Relieves symptoms of indigestion and dysmenorrhea (carminative effect)
Strengthens bones (Vitamin K)
Delays the onset of facial wrinkles and age spots (antioxidants)
Helps prevent hair loss (beta-sitosterol)
Relieves symptoms of eczema and psoriasis: help treat acne (antiseptic, anti-inflammatory properties)
Gentle reminders
Sage is considered a typically allergenic herb
Avoid drinking more than a cup of sage tisane daily
Making a Sage Tea
When you pour boiling or very hot water on fresh or dried parts of a plant and let it soak or steep for a minute or two, you're generally preparing an herbal tea. When you do this, you get to enjoy the flavor and aroma of the herb and spice in the water you'll be drinking.
But to get the most benefit out of the plant, you may need to let it steep longer. When you do this, you're now making an infusion. Infusion is actually caffeine-free.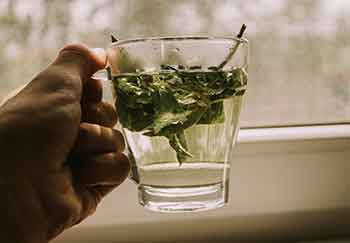 To make a caffeine-free sage tea or infusion:
Add 2 tbsp of fresh sage leaves (1 tbsp of dried leaves) to a cup of almost boiling water. Cover and steep for about 10 minutes. Strain.
For relief of some common sickness, here are some ways to prepare sage:
Fever, colds
Consume a cup of sage infusion
Use infusion as warm compress to treat fever, cold, and migraine
Sore throat
Pour ½ cup of boiling water over a pinch of dried sage. Steep for at least 15 minutes. Strain and sweeten with honey. Gargle infusion twice a day.
Sage Recipes
With plenty of sage leaves at home, I searched for recipes where I can get creative in the kitchen. These are just some of the recipes I found.
Fruity Sage
2 cups ice water
2 cups pineapple chunks, frozen
1 pear, peeled, cored, and frozen
2 fresh sage leaves
½ cup jackfruit meat, frozen (optional)
Blend everything until smooth. Serve immediately
Baked Stuffed Squash
Sweetly delicious, this divine squash supper is a nutrient powerhouse, high in skin-firming vitamins A, C, and E, and fiber to promote healthy digestion and eliminate toxins.
Serves 2
Prep time: 10 mins
Cook time: 50 minutes, plus standing
Ingredients
1 squash (of choice), halved lengthways, and deseeded
Himalayan pink salt and freshly ground black pepper
6 garlic cloves, crushed
1 tbsp olive oil
100g (3 ½ oz) quinoa
200 ml (7 fl oz) hot vegetable stock
½ tsp ground turmeric
1 large onion, finely chopped
Generous handful of chopped dill, sage, and chives
50 g (1 ¾ oz) hazelnuts, chopped
25g (scant 1 oz) pine nuts
Grated cheese (optional) and green salad leaves, to serve
How to make
Preheat the oven to 200 deg C (400 deg F). Place the squash halves on a baking tray, season, place the garlic in the hollows, and add a good splash of olive oil. Bake for 40 minutes, or until the flesh is soft. Remove from the oven to cool.
Meanwhile, rinse the quinoa. Place in a pan with the stock and turmeric, bring to a boil, cover, and simmer for 10 minutes. Remove from the heat, keeping the lid on. Leave to stand for 10 minutes, then fluff with a fork.
Cook the onion in a pan with a little oil. As the onion softens, add the chopped herbs, then remove from the heat. Scoop out the squash flesh and place in a bowl, preserving the squash halves. Roughly mash the flesh, then mix in the other ingredients. Spoon the mixture back into the squash halves. Return to the oven to bake for a further 10 minutes, adding a sprinkle of cheese if you wish. Serve with green salad leaves.
Sausage and Chestnut Stuffing
Serves 6
100 g (3 ½ oz) premium high-meat content pork sausages
100 g (3 ½ oz) cooked or vacuum-packed chestnuts, finely chopped
2 shallots, finely chopped
75 g (2 ½ oz) fresh breadcrumbs
1 ½ tbsp. chopped fresh sage
1 egg, beaten
Salt and pepper
Preparation time: 10 minutes
Cooking time: 30 or 40 minutes, depending upon method used
Remove the sausage meat from the skins and put it into a bowl. Add the chopped chestnuts and shallots and mix into the sausage meat. Add the breadcrumbs, sage, egg, and some seasoning and mix thoroughly.
Stuff into the neck end of a chicken or turkey, shaping any leftover stuffing into walnut-sized balls to cook separately. If you have made stuffing balls, arrange them on a lightly oiled baking tray and put them into the oven for the last 30 minutes of the bird's cooking time.
Alternatively, put all of the stuffing into a lightly greased ovenproof dish, about 17.5 cm (7 in) in diameter, spreading it out evenly and packing it down. Bake in a preheated oven at 200 deg C (400 deg F) for 40 minutes.
Some more ideas
For a simple sage and onion stuffing, chop 3 medium-sized onions and cook in 30 g (1 oz) butter until soft and golden. Transfer to a bowl and add 170 g (6 oz) fresh breadcrumbs, 2 tbsp chopped fresh sage or 2 tsp crumbled dried sage, 1 beaten egg, and seasoning to taste.
Turkey Kebabs with Herbs and Red Pepper Relish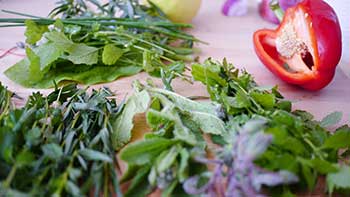 In this recipe, lean little bites of turkey are marinated with wine and herbs to add juiciness and flavor and then threaded onto skewers to be grilled or barbecued. A colorful raw-vegetable relish provides a nice splash of vitamin C as well as delightful taste contrast. Serve with a complex carbohydrate such as couscous.
Serves 4
450 g (1 lb) skinless turkey breast steak
3 garlic cloves, chopped
1 ½ tbsp. lemon juice
2 tbsp dry white wine
1 tbsp chopped fresh sage or 2 tsp dried sage, crumbled
1 tbsp chopped fresh rosemary
1 ½ tsp fresh thyme leaves or ½ tsp dried thyme
1 tsp fennel seeds, lightly crushed
2 ½ tbsp. extra virgin olive oil
1 red pepper, seeded and finely diced
1 bulb of fennel, finely diced
1 tbsp black olive paste (tapenade) or 10 black Kalamata olives, finely diced
8 stalks of fresh rosemary (optional)
8 shallots or button onions
Salt and pepper
Cut the turkey into 24 pieces, each about 5 x 2 cm (2 x ¾ in). Combine the turkey pieces with 2 of the chopped garlic cloves, 1 tbsp lemon juice, the wine, sage, rosemary, thyme, fennel seeds, 2 tbsp of the olive oil, and seasoning. Toss so that all the turkey pieces are covered with the herb mixture. Leave to marinate for at least 10 minutes, or up to 1 hour if you have the time.
Meanwhile, make the relish. Put the red pepper, diced fennel, and olive paste or diced olives in a bowl together with the remaining garlic, ½ tbsp. lemon juice and ½ tbsp. olive oil. Season to taste. Mix well, then set aside.
Preheat the grill to high, or prepare a charcoal fire in the barbecue. Thread the marinated turkey pieces onto the rosemary stalks if using, or onto skewers, and top each one with a shallot or button onion.
Grill or barbecue the kebabs for about 15 minutes or until cooked through and the turkey pieces are lightly browned in spots. Turn the kebabs and baste with the remaining marinade frequently. Serve the kebabs hot, with the red pepper relish.
References
Hendy, Jenny. 2011. Kid's First Gardening Book. Lorenz Books, Anness Publishing Ltd
Reader's Digest. Eat Yourself Healthy. Reader's Digest Association Limited
Villaflor-Almocera, Evelyn. 2017. Healthy Foods Healthy Lives. Philippines: Philippine Publishing House
Gealone-Corpus, Arlene May. 2018. Healthy Herbs and Spices.  Philippines: Philippine Publishing House