Powerful, spicy-tasting coriander leaves are an essential ingredient in Oriental and Mexican-style salads. They are decorative too, with their round, frilled-edge petals.
This glorious herb, sometimes called cilantro, can be used in many dishes, paired with fish, soups, salads, and even ground into pesto. You can use the whole plant – leaves, stems, roots, and seeds, too.
With all its benefits, it is a good idea to always have a fresh supply of coriander in your house. Here are some ideas in growing coriander:
Coriander grows best under the sun
Coriander is fairly easy to grow from seeds
Coriander needs to be planted in deep containers
Coriander is rich in vitamin A, C, and Potassium.
Coriander can be made into a tea or infusion which has lots of health benefits
Coriander can be used for flavoring stocks, soups, and sauces
How to Grow Coriander From Seeds
This hardy annual is best raised directly in a well-prepared seedbed outdoors or a greenhouse border. Before planting the seeds, you must prepare them so they will be able to germinate. Coriander seeds are actually two seeds encased in a husk.
Crush the husk gently by holding the two seeds together and then soak the seeds in water for 24 to 48 hours. Remove the seeds from the water and allow them to dry before planting.
As a tip, you can wait until late spring to sow for best results and repeat sowings every few weeks to give continuity of supply.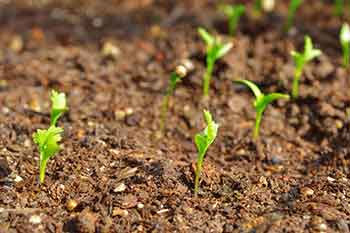 Coriander can be started indoors or outdoors. Plant the seeds ¼ inch deep. To transplant a coriander plant that has been started indoors, dig holes 3 to 4 inches apart in the garden. After transplanting, water the coriander thoroughly.
Tips in Transplanting Coriander Seedlings
When you are ready to transfer the seedlings to containers or in your garden, then you can do the following steps:
Break up any large clumps of soil to improve drainage. You may need to add garden compost if the soil is a heavy clay type. Other soil amendments you can use are coco peat, sawdust, wood shavings, or dried animal manure.
Fill in the pots with loam-based potting compost or topsoil. This will give the young plants a chance to root freely.
Firm lightly and level off with your hands
Water frequently for the first 2 weeks. Make sure to keep the soil moist for this time period.
To keep your plants healthy, pick the leaves and soft stems of the edible kinds frequently.
If you leave herbs to flower, they attract pollinating insects, but this makes the foliage of edible kinds less tasty.
An important note: when you are planting in containers, make sure to plant in deep containers as it has a long taproot.
Coriander Grows Best Under the Sun
Once coriander reaches 2 inches tall, thin the plants to 3 to 4 inches apart. Coriander grows best in crowded conditions because the plant's leaves will shade the roots and prevent the plant from bolting. Coriander likes full sun, but in hotter climates, the partial shade will be tolerated as the plant bolts in warm weather.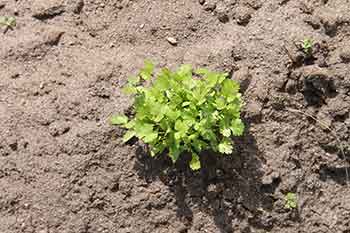 Once the coriander is a couple of inches tall, begin watering regularly. As soon as it develops flower heads, cut them off to redirect energy to the leaves for a larger harvest. Due to the coriander's strong aroma, it rarely has issues with pests and is even considered an insect repellant.
Leaf spots can become a problem by creating yellow leaves, but this can be prevented by making sure it is in well-drained soil and by not overwatering the plant.
When harvesting, it should be harvested when the leaves are still young and tender.
Coriander is an Excellent Source of Vitamin A, C, Potassium
For every ¼ cup of coriander (4 grams), it contains 20.84 mg of potassium. This is based on the US Department of Agriculture (https://fdc.nal.usda.gov). 
It also contains 269.92 IU vitamin A and 1.1 mg of vitamin C.
Potassium
Along with sodium, is important in maintaining fluid balance and regulating blood pressure and is essential for the transmission of nerve impulses. It is important in muscle contraction and proper regulation of the heart's rhythm.
Vitamin A
Vitamin A is essential for healthy vision, eyes, skin, and growth. It can also be obtained from beta-carotene, the pigment found in highly colored fruit and vegetables. In addition to acting as a source of vitamin A, beta-carotene has an important role to play as an antioxidant in its own right.
It also acts as an antioxidant, thus helping to protect the cells against cancer and other diseases.
Vitamin C
Vitamin C is essential for growth and vital for the formation of collagen (a protein needed for healthy bones, teeth, gums, blood capillaries, and all connective tissue). It plays an important role in the healing of wounds and fractures and acts as a powerful antioxidant.
Health Benefits of Coriander
A healthy intake of vitamin C is linked to decreased levels of dry skin as the vitamin boosts collagen production, vital for healthy, supple skin. Coriander, as well as other herbs such as chives, thyme, basil, and parsley, contains useful levels of vitamin C.
Coriander can also help:
Alleviate inflammatory conditions like arthritis; reduce minor swelling (anti-inflammatory properties)
Calm the mind; relieve stress and anxiety; facilitate peaceful sleep (B vitamins)
Delay the aging process (quercetin)
Dissolve cholesterol buildup in the arteries (antioxidants, essential oils, vitamins, dietary fiber)
Flush out toxins, thus removing excess bacteria that would otherwise set out and accumulate in armpits and feet (chlorophyll)
Offer relief from digestion problems (digestive juices, enzymes)
Lower cholesterol and blood sugar levels (high potassium and low sodium ratio)
Reduce hypertension and lower blood pressure (potassium, magnesium, calcium, iron)
Control oily skin (antioxidants)
Keep hair healthy (essential vitamins, protein)
Coriander Preparation for Body Care
Dark eye circles
Mix 1 spoon each of coriander juice and cucumber juice. Apply mixture around the eyes. Let stand for about 15 minutes before washing with water.
Skin irritation
Blend fresh coriander with water and strain. Apply solution topically to soothe sunburn, dry skin, and hives caused by an allergic reaction.
Diarrhea
Boil 1 cup water with 1 teaspoon of cumin seeds. Add 1 teaspoon of coriander extract and a pinch of salt. Simmer for about 10 minutes, let it cool, and strain. Drink twice a day after meals.
Nosebleed
Crush 4 teaspoons of coriander with a drop of camphor. Squeeze and use juice as nasal drops to stop the nosebleed. If camphor is not available, just use cilantro juice.
Gentle reminders
Coriander is considered safe when taken in food amounts but may cause an allergic reaction, skin irritation, and inflammation.
Avoid coriander oil if you have kidney issues
How to Make a Tea from Coriander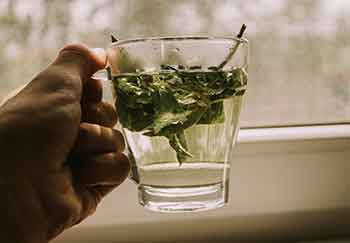 When you pour boiling or very hot water on fresh or dried parts of a plant and let it soak or steep for a minute or two, you're generally preparing an herbal tea. When you do this, you get to enjoy the flavor and aroma of the herb and spice in the water you'll be drinking.
But to get the most benefit out of the plant, you may need to let it steep longer. When you do this, you're now making an infusion. Infusion is actually caffeine-free.
Pour 2 cups of hot (not boiling) water into a container with 2 tablespoons of freshly chopped or 1 tablespoon dried coriander leaves. Cover and steep for at least 10 minutes. Strain before drinking.
Coriander Cooking Ideas
With plenty of coriander leaves at home, I searched for recipes where I can get creative in the kitchen. These are just some of the recipes I found.
Spunky Coriander
Smoothies are drinkable meals or snacks that are fast and easy to prepare. Throw in a combination of fruits, greens, and milk and you have a delightful drink packed with fiber and carbohydrates, vitamins and minerals, proteins, and good fat.
3 cups watermelon, chunked and frozen
½ cup fresh coriander
1 cup coconut water
¼ tsp ginger powder
1 tbsp lime juice
Mint leaves (for garnishing)
Blend the ingredients, except mint leaves. Garnish with mint leaves before serving.
Cucu-Avocado Salad
It's a misconception that avocados cannot be enjoyed in a healthy diet because of their high fat content. Yes, they do contain a great deal of fat, but it is the good monounsaturated type. In this salad, the creaminess of the avocado is complemented by fresh cucumbers and coriander.
2 cucumbers, diced
1 tsp salt
1 small red bell pepper, diced
½ cup fresh coriander, chopped
2 limes, zested and juiced
1 tbsp white sugar
½ tsp curry powder
4 dashes hot pepper sauce
2 avocados, peeled, pitted, and diced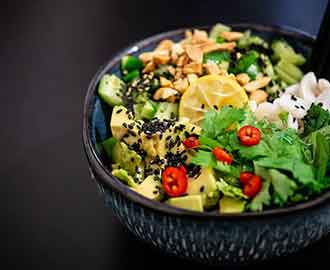 Place cucumber into a colander, set, and sprinkle with salt. Allow mixture to drip. In a bowl, mix bell pepper, onion, coriander, lime zest and juice, sugar, curry powder, and hot pepper sauce. Combine until the sugar has dissolved. Pat diced cucumber dry with paper towels then add to the mixture. Toss in the avocados, mix gently and serve.
Chilled Leek and Avocado Soup
Coriander and lime juice accentuate the delicate avocado flavor in this refreshing soup. It is simple yet interesting, and ideal for a summer's dinner-party first course or a light lunch. Do not add the avocado too soon-not only will it discolor slightly, but its flavor will mellow and lose the vital freshness.
Serves 4
Preparation and cooking time: 30 minutes, plus cooling and chilling
1 tbsp extra virgin olive oil
450g (1 lb) leeks, halved lengthways and thinly sliced
1 garlic clove, finely chopped
750 ml (1 ¼ pints) vegetable or chicken stock, bought chilled or made with a stock cube or bouillon powder
1 large ripe avocado
125g (4 ½ oz) plain low-fat yogurt
1 tbsp lime juice
2 tbsp chopped fresh coriander
Salt and pepper
To garnish
8-12 ice cubes (optional)
Slices of lime
Sprigs of fresh coriander
Heat the oil in a saucepan, add the leeks and garlic, and cook for 10 minutes, stirring frequently, until the leeks are slightly softened but not colored. Pour in the stock and bring to a boil. Cover the pan, reduce the heat and simmer for 10 minutes or until the leeks are cooked.
Remove the soup from the heat and let it cool slightly, then purée it in a blender or food processor. Alternatively, the soup can be puréed in the saucepan with a hand-held blender. Pour the soup into a bowl and leave it to cool, then chill well.
Just before serving the soup, prepare the avocado. Halve the avocado and discard the stone. Scoop the flesh from the peel and press through a fine stainless steel or nylon sieve. The avocado can also be puréed in a blender or food processor until smooth, adding a little of the chilled soup to thin the purée and ensure it is completely smooth.
Stir the avocado purée into the soup together with the yogurt, lime juice, and coriander. Add seasoning to taste, then ladle the soup into 4 bowls. Float 2-3 ice cubes in each bowl, if you wish, then add slices of lime and sprigs coriander. Serve at once.
Some more ideas
For a soup with Mexican flavors, cook 1-2 seeded and finely chopped fresh green chilies with the leeks.
For a simple no-cook avocado soup, blend 2 avocados with 450 ml (15 fl oz) vegetable stock, then add the yogurt and lime juice, and season to taste.
Lentil Risotto
Lentils add extra flavor and texture to this Italian-style mushroom risotto and also make it more nutritious. Serve with roasted or griddled Italian vegetables, such as peppers and courgettes, or a mixed salad, for a satisfying lunch, and one that is particularly tempting on a cold winter's day.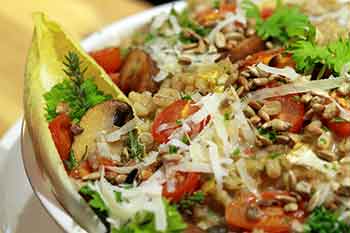 Serves 4
Preparation time: 30 minutes
Cooking time: 45 minutes
170g (6 oz) green lentils
500 ml (17 fl oz) vegetable stock
1 tbsp extra virgin olive oil
1 onion, finely chopped
1 garlic clove, crushed
3 celery sticks, chopped
1 red pepper, seeded and diced
1 tsp ground coriander
1 tsp ground cumin
225g (8 oz) mushrooms, sliced
170g (6 oz) risotto rice
200 ml (7 fl oz) dry white wine
3 tbsp coarsely chopped fresh coriander, plus extra to garnish
50 g (1 ¾ oz) Parmesan cheese, cut into shavings
Salt and pepper
Cook the lentils in a saucepan of boiling water for 20 minutes, then drain and set aside. Place the stock in the saucepan and bring it to simmering point over moderate heat. Lower the heat so the stock is simmering gently.
Heat the oil in another large saucepan, add the onion, garlic, and celery, and cook for 5 minutes or until softened, stirring occasionally. Add the red pepper and the ground coriander and cumin, and cook for 1 minute, stirring.
Add the mushrooms, rice, and cooked lentils and stir to mix. Pour in the wine and add a ladleful of the hot stock. Bring to a gentle boil and bubble until most of the liquid has been absorbed, stirring frequently.
Add another ladleful of stock and cook until it is absorbed, stirring frequently. Repeat this gradual addition of the hot stock until it has all been added. The rice should be creamy and tender but still with some bite, and the lentils cooked.
Stir in the chopped coriander and season with salt and pepper to taste. Serve hot, sprinkled with Parmesan shavings and extra chopped coriander.
Roast Sea Bass with Tomato Salsa
Flavorsome sea bass provides omega-3 oils, which promote cell repair. The antioxidant lycopene in the tomato salsa strengthens delicate blood vessels, supporting fine skin on the neck and hands.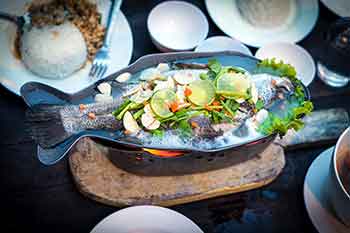 Serves 2
Preparation time: 30 minutes
Cooking time: 15 minutes
1 tbsp sea salt
2 x 500g (1 lb 2 oz) sea bass, scaled, cleaned, and heads removed
1 lemon, sliced, plus the juice of 1 lemon
2 sprigs of rosemary
4 tbsp coconut oil
2 garlic cloves, roughly chopped
For the tomato salsa
1 red onion, finely chopped
2 garlic cloves, finely chopped
1 red chili, deseeded and finely chopped
1 tbsp olive oil
400g can tomatoes
210g can kidney beans, drained and rinsed
2 tbsp coriander leaves
Juice and zest of 1 lime
Himalayan pink salt and freshly ground black pepper
Preheat the oven to 220 deg C (425 deg F). Salt the inside of the fish, then set aside for 20 minutes. Rinse and pat dry. Slash the fish skin in 3-4 places and insert the lemon slices. Place the rosemary in the fish, then transfer to a lightly oiled baking tray.
For the salsa, cook the onion, garlic, and chili in the oil on low heat for 10 minutes. Add the kidney beans, coriander, and lime juice, and zest, then season to taste.
Heat the coconut oil in a small pan over medium heat. Cook the garlic gently for 1-2 minutes. Pour the oil and garlic on top of the fish. Bake for about 15 minutes, basting frequently with the oil until the fish flakes easily and the skin is slightly crisp. Pour the lemon juice over the fish and serve with the tomato salsa on the side.
References
Hendy, Jenny. 2011. Kid's First Gardening Book. Lorenz Books, Anness Publishing Ltd
Reader's Digest. Eat Yourself Healthy. Reader's Digest Association Limited
Villaflor-Almocera, Evelyn. 2017. Healthy Foods Healthy Lives. Philippines: Philippine Publishing House
Gealone-Corpus, Arlene May. 2018. Healthy Herbs and Spices.  Philippines: Philippine Publishing House